UniversRadio EmergencyRadio
Summary :
1- When to use UniversRadio EmergencyRadio ?
This is an application can be launched after you are ejected, and for Search And Rescue mission. Be carefule with relief and range of transmission.
Once you are ejected, launch UniversRadio EmergencyRadio from UniversRadio DashBoard shortcut and choice "Emergency".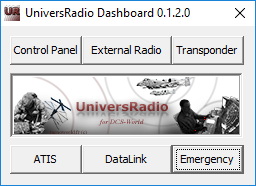 You get a window shows Latitude Longitude coordinates and your current radio frequency :




And you switch to the "Ejected Pilot" UR TS mode :

2- How to use UniversRadio EmergencyRadio ?
talk on radio #1 (by default) (don't select an other with input, you'll get trouble)
EMER U : preset frequency with 243.000 MHz AM
EMER V : preset frequency with 121.500 MHz AM
MANUAL : enter your own frequency
AM/FM : switch modulation
SECUR : cypher your transmission according to Secure Code of URCP
'UR Emerg' can be hidden with the same 'Hide window" input as UR ER.




Like URER, middle click on window stops focus on DCS, and shows the Windows taskbar.
When you quit UR Emerg, don't forget to return to the pilot mode