UniversRadio ATC RadioDesk
Summary :
1- When to use UniversRadio ATC RadioDesk ?
UniversRadio ATC RadioDesk is an external radio set for LotATC 4 DCS.
This radio set can receive up to nine frequencies and can transmit up to three frequencies and with an intercom with an other ATC placed on the same tower. So 9 in, 4 out.
Eight frequencies can be configured. (UHF emergency guard can not)
Nine channels are managed.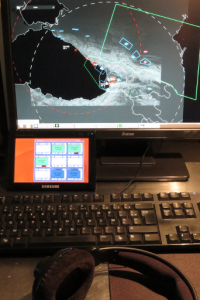 2- How to use it ?
First, LotATC 4 DCS must be launch and UniversRadio tab must be enabled with a selected location. Note, DCS is not needed.
After, you will find UniversRadio ATC RadioDesk for LotATC shortcut in the Windows start menu => UniversRadio \ UniversRadio ATC RadioDesk.

Screenshot above shows nine radios :
Ground : ready to talk
Tower : ready to talk
Tower : unselected
Approach : ready to talk
Flight Information : listening
ATIS : unselected
ATC LINK 1 : intercom with other ATC in same tower
VHF guard : listening
UHF emergency guard : waking
Eight first radios are free, and can be configured.
Best experience : under 30.000 MHz relief does not cut communication and it has not range limitation.
3- UniversRadio ATIS server
UR ATIS server can be launch form "ATIS" button. Configure the frequency and the METAR message. When a radio change frequency to ATIS frequency, an ATIS vocal message will be broadcasted.
4- UniversRadio AWACS Radio Scanner for LotATC
This module can be launched from "SCAN" button and it displays level signals of the wave band from 1MHz to 400MHz according to the window of scan.
UR Scanner works only if you use LotATC and your location is an AWACS.
Zoom and scanning range can be customized by mouse buttons.
With this module, you can monitor radio transmissions of your coalition…And ennemies too…So be quiet and use cypher communication.

5- HELP. Which actions can be done ? And, how to do ?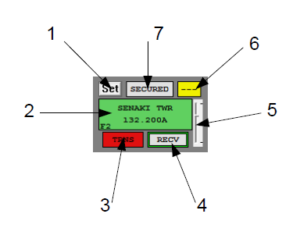 ACTION
COMMAND
(1) Setting radio
Click on "Set" button of the radio


Modification are autosaved
Changing radio name
Click on "Set" button of the radio
Up to 16 characters. (1)
Changing radio frequency
Click on "Set" button of the radio
From 2MHz to 399.999MHz
Enter "intercom" for intercom
(1)
Changing radio modulation
Click on "Set" button of the radio
AM or FM (2)
Changing hotkey
Click on "Set" button of the radio
Then "Set"
(5) Changing volume
Use the slide on the right side
(7) Securing radio transmission
Click on "Set" button of the radio
Check "Activated Secured voice
Code from 1 to 6
See UniversRadio Control Panel (3)
Only one channel can be encrypted.
(4) Listening to a radio
Double-click on "Text window". When you receive a communication.
Left click on RECV light.
Press and hold hotkey.
RECV surrounded in green is waking (4).
RECV displayed in green color is receiving (4)
and QDM is displayed on top-right corner (6).
(3) Talking
Click on "TRNS" light.
Click and hold on "Text window" for PTT.
Press/cycle hotkey.
You can talk to this channel when TRNS is displayed in red color.
Only three radios can be setted as transmitter at the same time.