(English read bottom, or text between () )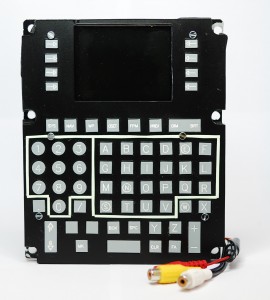 Ce panneau est composé de deux parties :
Ecran 3,5″ et d'un convertisseur VGA vers Vidéo (fiche RCA) qui affiche l'image de l'extraction d'écran.
un clavier 67 touches géré par une carte électronique qui envoie l'état des touches au module de réception IIC-USB.
L'extraction de l'affichage se configure à l'aide d'un fichier lua personnalisé présent dans le répertoire ..\DCS-World\Config\MonitorSetup\ . Ce lien amène au post de PeterP (Dummies Guide for the "MonitorSetup.lua").
Selon le concept général de ce home-pit, seul quatre fils seront nécessaires à la connexion du clavier au répartiteur des entrées.
(English : This pannel is composed with two parts. A 3.5″ display monitor with VGA video converter and a keyboard with 67 keys managed by an owned electronic card. Display is setted from MonitorSetup.lua file. (PeterP wrote a post : Dummies Guide for the "MonitorSetup.lua") on eagle.ru forum about display extraction).
Electronique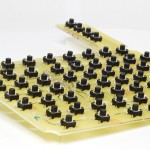 Le clavier est ensemble de micro-switch 6x6mm soudés sur une plaque d'epoxy.
Ce clavier est relié à la carte contrôleur qui gère le  démultiplexage et l'envoi IIC.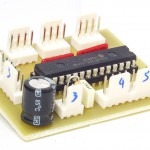 (English : Four wires are used to get power and connection with DCS simulator.
Keyboard PCB card is built in epoxy and uses 67 microswitches 6×6.
The electronic card contains a PIC16F767 microcontroler programed to send keys status to a USB-IIC module.)
Mécanique
A l'instar des autres panneaux, la plaque de support est en tôle acier galvanisé qui le rôle de maintient de l'écran 3,5″, du clavier électronique, de la carte contrôleur, et des touches.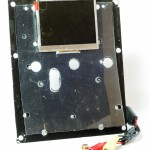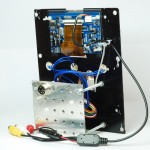 (English : The bottom frame of the panel is iron)
 Touches et grille du clavier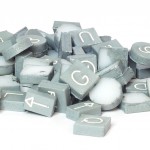 Les touches ont été réalisées en ppma 3mm en blanc translucide. Prépeinte en grise avant gravure puis ré-enduite d'une peinture blanche phosphorescente pour augmenter le contraste et donc améliorer la lecture. Chaque touche est collé sur une feuille plastique transparente et souple. La grille a été fabriquée en pmma 2mm et peinte en noire.
L'assemblage est fait avec des vis et entretoise pour garantir un jeu nécessaire à l'utilisation des touches.
Le rétroéclairage est assuré par des bandes de LED placées entre les micro-switch du clavier. Un joint noir de fenêtre est ajusté et collé sur les bords de la plaque de support et la grille de clavier offrant ainsi un meilleur visuel et une étanchéité à la lumière.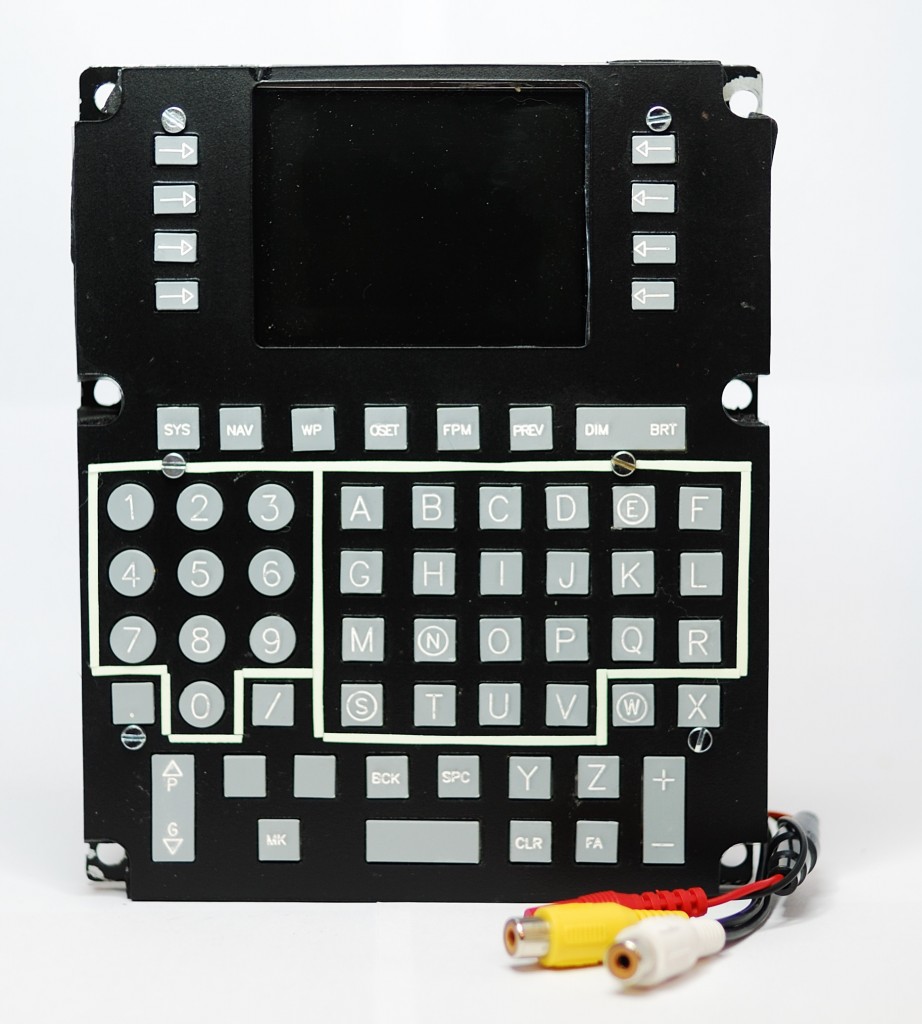 (English : Keys are results of laser pmma 3mm cutting and engraving. The keyboard grid is built with pmma 2mm. Keys are glued an transparent and soft sheet.)
Touches collées sur la feuille transparente souple ( Sealed keys onto a transparent soft sheet)
Un ruban adhésif transparente double face est utilisé pour coller les touches.
(Transparente double side tape is used to sealed keys)
Grille du clavier (keyboard grid – top frame)
Six vis permettent le maintien de la grille, des touches,du clavier à la plaque métallique inférieur. Ces six assurent la bonne pression des touches. Trop désserrées, les touches s'enfoncent trop sous la grille, trop serrées, les touches appuient sur les microswiths qui peuvent alors être activées.
(Six screws hold grid, keys sheet, electronic keyboad on the back metallic frame. These screws do the good keys pressure : too slack keys can go under the grid frame, too jam keys can activate microswithes)
Augmentation de la visibilité jour et nuit (increasing viewing day and night)
Les gravures des touches, dans l'ensemble du cockpit sont remplies de peinture phosphorescente.
(The engravings of keys are filled with phosphorescent paint.)
PCB du clavier avec le rétro-éclairage (keyboard and backlight)
Ce rétro-éclairage n'est pas assez performant pour une utilisation rapide. Les lampes d'éclairage cabine sont nécessaires.
(This backlight is not efficient for fast using. Flood lights are needed)
(English :
This pannel is composed with two parts. A 3.5″ display monitor with VGA video converter and a keyboard with 67 keys managed by an owned electronic card. Display is setted from MonitorSetup.lua file. (PeterP wrote a post : Dummies Guide for the "MonitorSetup.lua") on eagle.ru forum about display extraction).
Four wires are used to get power and connection with DCS simulator.
Keyboard PCB card is built in epoxy and uses 67 microswitches 6×6.
The electronic card contains a PIC16F767 microcontroler programed to send keys status to a USB-IIC module.
The bottom frame of the panel is iron, keys are results of laser pmma 3mm cutting and engraving. The keyboard grid is built with pmma 2mm. Keys are glued an transparent and soft sheet.
Backligth uses LED strips put between microswitches rows.)