A-10C home cockpit presenting
Parce que piloter avec une souris a ses limites,
Because piloting with mouse has limits,
j'ai commencé un vaste projet : la construction d'éléments de cockpit pour DCS A-10C.
I began a huge project : building cockpit panels for DCS A-10C
Utilisant le moins possible les solutions pré-fabriquées comme celle d'OpenCockpit, qui est très intéressante à tous points de vue, je réinvente donc 'la roue'. Cela m'apporte une meilleure maîtrise et de nouvelles connaissances.
I preffered invent my own concept instead using existing solutions as OpenCockpit or other . Thereby, I can control better and learn new technologies.
Un élément de cockpit est connecté à l'ordinateur à l'aide d'une solution comprenant deux cartes USB spécifiques pour les entrées et sorties. Ces cartes exécutent des programmes spécifiques, et sont mutualisées avec les autres panneaux.
A cockpit item is connected to computer with two USB cards : INPUT and OUTPUT. These USB cards have specific programs. They are common with all panels.

Avantage : meilleur gestion des états des actionneurs / gain économique : une carte USB pour l'ensemble des entrées.
Inconvénient : instabilité probable, une seule action momentanée.
benefit : best management / cheaper : one USB card for whole input
disadvantage : instability possible, only one action by one.

logique électronique – câble 8 connecteurs – répartitions – interfaces informatiques
electronic logic – 8-wires cable – switching – software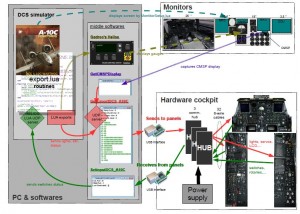 Schéma des échanges
Exchange overview
Le chapitre portant sur les technologies utilisées, amène plus de détails sur les échanges  : boutons afficheurs, ordinateur et simulateur. Les fournisseurs présents dans cette liste me permettent une part de la réalisation.
Je vous invite fortement à écrire vos commentaires, vos questions, tout ce qui pourra être constructif et enrichissant pour tout le monde.
Bonne lecture.