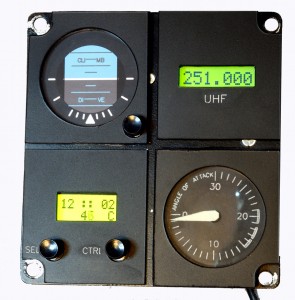 This panel is composed with four parts :
Angle of attack gauge : a micro servomotor turns the needle with two gears (10 teeth and 30 teeth).
UHF repeater display. a 8 characters LCD displays the frequencie or the loaded channel
Clock. a 2×8 charracters LCD displays the time and the chronographe.
Standby attitude indicator : it isn't used and it's a draw.
Electronic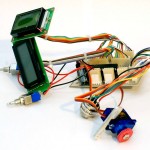 The three used parts are managed by a microcontroller Microship PIC16F767.
Too, this microcontroller manages the auxiliary langing gear handle and the two MFCD ON/DAY/NIGHT switches.
Communication
This panel is connected to a own IIC hub by a 8-wire cable :
Input are sent via a IIC bus to IIC slave USB card. (2 wires)
Ouput are received from a second IIC bus from a IIC master USB card. (2 wires)
Power takes 2 wires (ground and +5V)
Back light takes 2 wires
Mechanic
A steel back board painted in black is used to support:
AoA needle
UHF LCD display
clock display and its two buttons
SAI button that isn't used
The rear board supports two connectors :
communication and black light connector (on the right)
MFCD O/D/N switches and auxiliary gear handle