(English read in grey)
Ce panneau sert très peu dans le simulateur car l'environnement météorologique extérieur n'est pas encore pris en compte, ainsi que l'environnement dans la cabine n'a pas d'effet sur le pilote, contrairement à  l'hypoxie et au vecteur de charge.
Ormi au démarrage (vérification du gaugeur d'oxygène liquide), aux points d'arrêts (pour la mise en marche,  l'arrêt du réchauffage du tube de Pitot) ou le Bleed Air sur OFF en cas de fuite, le panneau n'a pas plus d'utilité fonctionnelle pour la simulation en dehors de ces trois actionneurs.
De plus, le gaugeur de quantité d'oxygène ne verra pas une forte évolution car dans la pratique de la simulation et des missions, nous ne volons pas assez haut et pas assez longtemps.
(Only three actions are done with this panel. Pitot Heat, check Oxygen gauge and Bleed air in case of leak. Today meteorology, ice aren't included in DCS)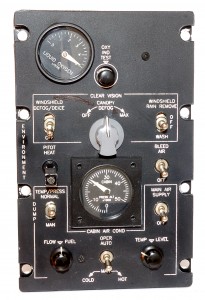 Electronique – Electronic
Selon le principe de ce cockpit, un microcontroleur Microchip (PIC16F767) aura la charge de recevoir les informations du simulateur DCS ; et d'envoyer les informations vers DCS.
Les données de pressions et de quantité d'oxygène liquide sont prises en compte.
Aujourd'hui seule la quantité d'oxygène est envoyée par l'Export.
(By principle of this homepit, a microcontroler manages input and output data with one IIC bus each. A Microchip PIC16F767 is used. Electronic card supportes two gauges : cabin pressure (not implemented) and liquid oxygen volume)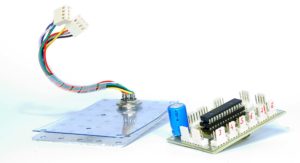 Données reçues de DCS (extrait de l'Export.lua)(envoyées au programme SendExport_DCS_A-10C_x64.exe) : Niveau d'oxygène liquide

(Received data from Export LUA : liquid oxygen volume)
lDevide = GetDevice (0)
s

ocket.try(tacno_c:send( string.format("0274 3 %.4f\0",lDevice:get_argument_value(274) ) ) )
Données envoyées à DCS (trame UDP pour Helios)

(Sent data to Helios, via SetInput_DCS_A10C_win32.exe)
exemple : C41,1,1 pour l'appui du poussoir OXY IND TEST
[41]1 (0,1) #OXY_TEST


[41]2 (

0,1) 

 #WINDSHIELD_DEFOG
[41]3 

(0....1) 

 #CANOPY_DEFOG
[41]4 

 (-1,0,1)

 #REMOVE_WASH
[41]5 (

0,1)

#PITOT_HEAT
[41]6 (

0,1)

 #BLEED_AIR


[41]7 (-1,0,1) #TEMP_PRESS


[41]8 (

0,1)

 #MAIN_AIR_SUPPLY
[41]9 

(0....1)

 #FLOW_LEVEL
[41]10 (

0,1)

 #CABIN_AIR_COND_OPER


[41]13 (0....1) #TEMP_LEVEL
(Panneau – Panel
Il s'agit d'un grand panneau 3,75″ x 9″ (146×229 mm)
(Panel dimension)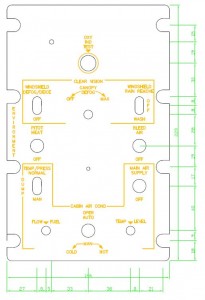 Actionneurs :
L'actionneur OPER (AUTO-MAN-COLD-HOT) devrait avoir 3 positions et dans une géométrie en triangle. Un actionneur à deux états a été retenu, il n'est donc pas bon.
(OPER switch isn't good. It should be a 3 positions switch in traingle move)
1x Boutton

(push button) 

(ON)-OFF : (Oxy Ind Test)
4x Commutateurs

(switches)

ON-OFF : (Pitot Heat)(Bleed Air)(Windshield Defrog/Deice)(Main air supply)
2x Commutateurs

switches)

ON-OFF-ON : (Windshield Rain Remove)(Temp/Press Normal)
3x potentiomètres

(diamer)

10 kOhms : (Canopy Defog)(Flow Fuel)(Temp Level)
1x servo-moteur

(servomotor)

: (Oxygen Quantity)
Le panneau de support est en acier. Il supporte les actionneurs, le rétro-éclairage, le panneau frontal de désignation et le support de la carte électronique.
(Back panel is made in steel. It supportes switches, backlight and front panel. Front panel is made in white plexi, laser cut and engraved after paint.)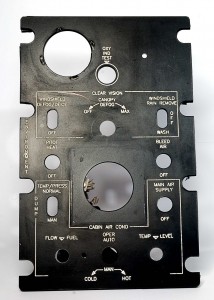 Réchauffage du tube Pitot – Pitot Heat
Un actionneur ON-OFF à levier plat est utilisé. Contrairement au levier rond qui tourne sur lui-même, le plat est fixe. Un cube en aluminium est usiné pour y insérer le levier plat. Le levier est taraudé pour accueillir la visse de serrage du cube.
(Lever of Pitot Heat switch is particular. From a flat lever switch, a threading is done. A cube in aluminium is modified to be fixed to the lever with a screw)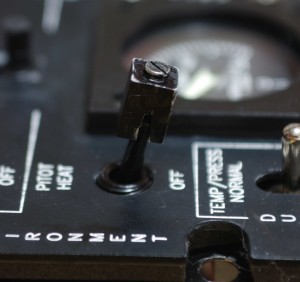 Rétro-éclairage – backlight
Une bande de LED verte est utilisée. On peut voir la différente des intensités lumineuses asservi au simulateur DCS.
(Green LED strippes are glued on the back frame. Intensity is slaved to DCS)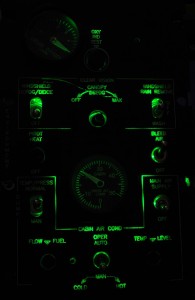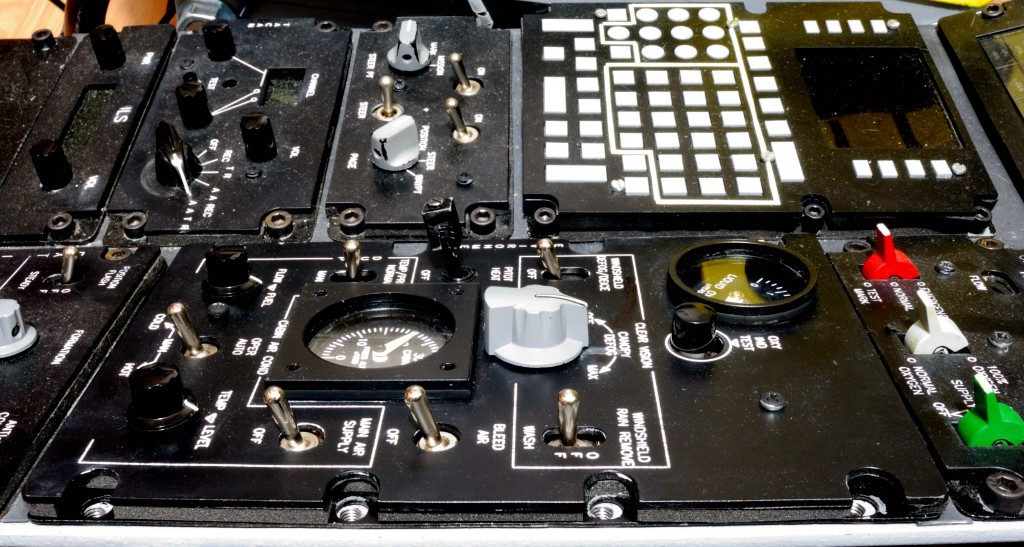 Vue du panneau sur la console droite – (View of the panel on the right console)