(English read in italics)
Ce panneau principalement utilisé pour le fonctionnement des turbines et du ravitaillement comporte 15 actionneurs simples  ainsi que le levier d'ouverture de la trappe.
This panel is mainly used for turbofans and air-refuel. There are 15 simple switches, and the lever of the receiver door.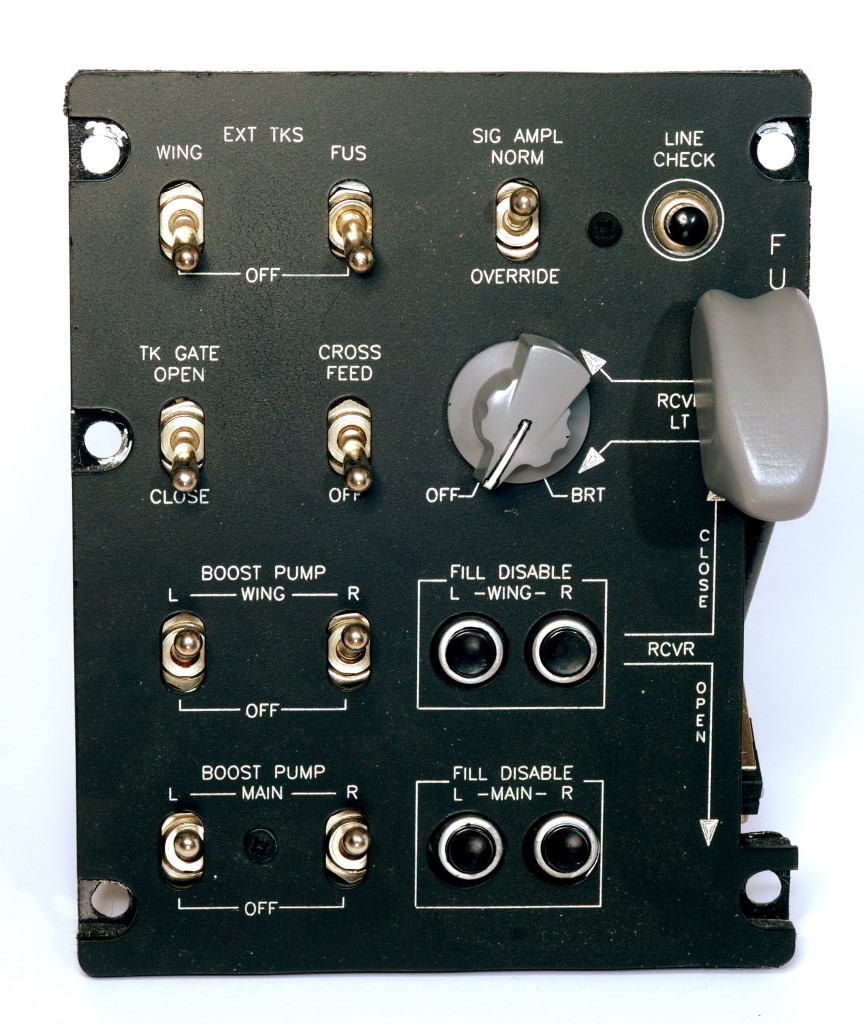 Mécanique – Mecanic
Actionneurs – switch
commutateur (switch) 9x ON-OFF
bouton poussoir

(push button)

1x (ON)-OFF
bouton (button) 4x ON-OFF
contacteur (switch) 1x
potentiomètre (dimmer) 1x10kOmhs
Levier – lever
Le bras du levier est fixé à une équerre et maintenu en pression par un ressort. Seul le contact en position basse, ouverture de la trappe, est prise en compte.
The lever arm is attached to a bracket and held under pressure by a spring. Only the contact in the lower position, the door opening, is counted.
Poignée – Handler
La poignée est fabriquée en bois, et vissée au bras. Une râpe à bois et le bon œil suffisent…
The handle is made ​​of wood, and is screwed to the arm. Just a wood rasp and a good eye…
Plaques – Frames
Plaque de support – Support frame
La plaque de support est toujours réalisée en acier afin de fixer les commutateurs, le support du circuit électronique et les bandes du rétro-éclairage.
Plaque de désignations – designation frame
La plaque de désignation est fabriquée à partir d'un plexiglass blanc découpé au laser, double couches de peintures noires et un vernis, gravé au laser. Un joint noir de 4mm pour fenêtre cache la lumière du rétro-éclairage.
Designation frame is built with white pmma and laser cut and engraved. A 4mm window black joint hides backlight.
Electroniques – Electronics
Selon le principe général, un micro-controleur PIC16F767 gère l'envoi des états des actionneurs à DCS World.
By general principle, PIC micro-controller manages new status of switches.
Panel —(I2C)–> CommCard —(USB)–> PC —(SetInputToDCS Software)–> DCS World
#define ON_OFF  0
#define VARIABLE2 5

#[C30 device],button nmr,type #comment

[36]1,0 #EXT_TKS_WNG
[36]2,0 #EXT_TKS_FUS
[36]3,0 #TK_GATE
[36]4,0 #CROSS
[36]5,0 #L_WING
[36]6,0 #R_WING
[36]7,0 #L_FUS
[36]8,0 #R_FUS
[36]9,0 #SIG_AMPL
[36]10,0 #LINE_CHK
[36]12,0 #DIS_L_WING
[36]13,0 #DIS_R_WING
[36]14,0 #DIS_L_FUS
[36]15,0 #DIS_R_FUS
[36]16,0 #LEVER
[49]18,5 #LT_DIAL