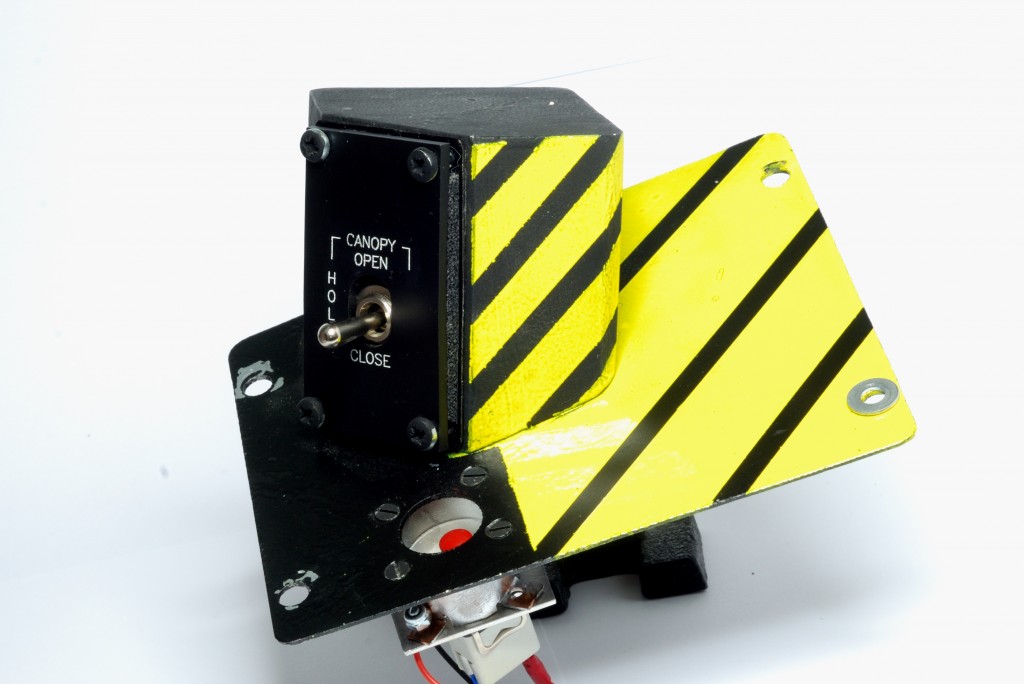 Ce panneau est fabriqué après la pose du Electric Panel. Les mesures largeur et longueur sont prises directement sur la console droite. La largeur est connue : 5.75inc. (146 mm). Deux longueurs : 112 mm intérieure et 146mm en extérieure.
This panel is built after Electric Panel. Measures are done directly on console. Base, parallel at Electric Panel, is 5.75inc. (146mm), two lengths 112mm and 146mm.
Commutateur de la verrière – Canopy switch
Le commutateur est un (ON)-OFF-ON au diamètre de 12mm et levier de 17mm. Le commutateur est logé dans une pièce en bois. Un poteau de 70mmx70mm coupé à la scie circulaire sur deux angles mesurés pour avoir le haut de la pièce parallèle au sol (20° et 22° dans mon cas). La pièce est creusée pour recevoir le commutateur.
A stake of wood (70mmx70mm) supports the canopy switch. This piece is measured to get the top parallel at the ground. A circular saw has been used (two angles, in  my case 20° and 22°). A hole is dug to put the switch.
Bouton de l'échelle – Push button of the ladder
La capuchon n'est pas réalisé. Le logement du bouton est un tube de cuivre sur lequel sont réalisée 2x 4 oreilles pour être fixé à la plaque support et fixer le support du bouton poussoir. Il est ensuite peint en argent.
Hood isn't done. Housing of push button is built with copper pipe. 8 ears are made to fix main frame and the button support. Pipe is painted in silver and the button in red.
Electronique – Electronic
Selon le principe général de ce home-cockpit, un micro-contrôleur (PIC12F509) gère les états de l'échelle et de la verrière ; et envoie les données via un bus IIC vers DCS.
By general principle of this home-pit, a µ-controller (PIC12f509) manges status of ladder and canopy, sends data via IIC bus.